The ABCs of Virtual Leadership
Virtual Leadership is the new norm. What are the skills, attributes, and key considerations for leading in a virtual setting? What do leaders need to do differently in a virtual environment? How does leadership change when teams are working remotely? The ABCs of Virtual Leadership provides 26 reminders and opportunities to reflect upon how leadership translates to the virtual setting.
Whether leading in person or virtually, the one thing that remains critical is investing in your people and ensuring they have the skills necessary to lead their teams and do their jobs.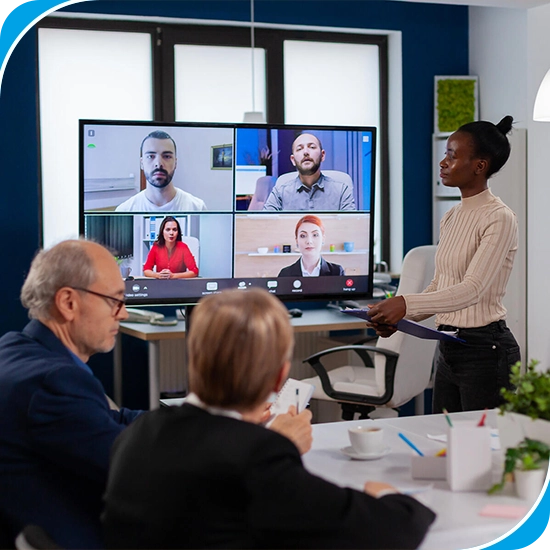 Accountability
Set clear deadlines and expectations around the time to complete tasks. Clear accountability enables people to productively act on what matters now.
Be human
Everyone is getting peeks into coworkers' lives like never before. Embrace it and understand that life and work are colliding in all new ways.
Communication
Lead regular team updates and one-on-ones with direct reports. Because informal communication is limited, try dedicating time in meetings to simply catching up.
Development
Look for opportunities to develop yourself and the leaders on your team. Learning should not be put on hold because in-person training has been paused.
Empathy
Everyone adapts to change differently and is facing challenges right now, only some of which relate to virtual work. Check in on team members and don't shy away from their personal situations.
Framing
Framing for possibility is an encouraging approach in challenging times. Try asking yourself, "What new needs are you observing from your team, your customers, and your suppliers?"
Goals
Set fewer, faster goals. The virtual world shifts constantly and clearly focused goals help keep employees on track.
Hire the right people
Interview via different mediums to understand how candidates communicate in different channels. Be conscious of a candidate's virtual presence.
Innovation
Whether it's finding new ways to package and market your product or services or how to communicate and engage with your team, the virtual environment requires an innovative approach to keep your organization afloat.
Join
Find new opportunities to connect with your team in a casual way, such as virtual happy hours or team lunches. Interactions create energy for your team. Having you as a leader joining in will make it much more meaningful!
Kindness
Words and tone of voice are more powerful in a virtual setting. Be mindful of both.
Listening
In a virtual setting, it's tempting to multitask. Active listening is even more important when you can't come back to someone easily to confirm details. Work on listening to understand, rather than listening to respond.
Mentoring
There are fewer opportunities to learn through observation in a virtual setting. Be cognizant of developing talent in this environment: Reinforce strong leadership and ask open-ended questions when things could have been handled differently.
Nimble
Work with employees to understand how and when they are most productive. Some companies ask all employees to be logged in for the same four hours a day for meetings, etc. Following that, employees have the rest of the day to finish their work on their terms.
Open-minded
Maximizing efficiency and team effectiveness in a virtual setting is a marathon, not a sprint. Ask for feedback from your team and solicit ideas for continual improvement.
Processes
Create and communicate virtual processes to your team: new forms, new checklists, new communication platforms. Reevaluate these processes often to ensure they are still an enhancement and not a hinderance to your team.
Quality
Set clear expectations about the quality of work you expect your team to deliver. As a leader, you set the bar on quality.
Recognition
Take time to recognize and celebrate the efforts of employees at the organization. Express gratitude often.
Support
Support comes in many forms: Does your team have the right equipment to do their best work remotely? Does your team have enough of your time to get what they need to push their project forward?
Trust
Trust in teammates and superiors allows individuals to be their authentic self at work. Work to set an example of transparency and authenticity for your team.
Unity
Frequently remind your team of the organization's mission. Repeat it as often as you can to support alignment and unity around a shared goal.
Values
Communicate your organization's values. Remind people of the bigger picture and greater priorities and relay examples of how the organization lives by its values — so that it becomes more than just words.
Welcoming
With less opportunity for informal communication, creating a welcoming virtual meeting environment is critical in getting your team to speak up and take risks. Try starting a meeting by having all members share some positive news.
X
Evaluate when to stop resourcing a project and put an X through it. Ask: Does this initiative still make sense in the current market? Does this project still help us reach strategic objectives?
Yourself
Be authentic. Be transparent. Communicate with empathy. And be yourself.
Zoom
Zoom in to the details and out to the big picture and don't get stuck in one perspective or the other.
Interested in other content?
Visit our website for more on leadership development and business simulations