2021 Brandon Hall Gold
Excellence in Leadership Development Award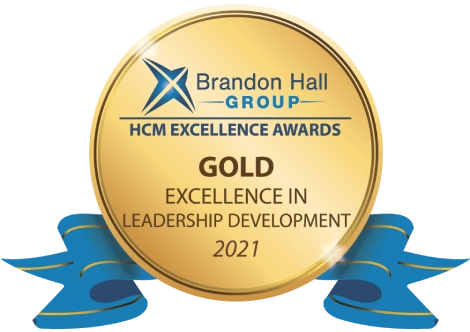 Best Unique or Innovative Learning Program
Even before the global pandemic, organizations needed innovative and unique development programs.
We originally developed the Executing Strategically program in 2016 for one of America's largest, most well-established financial services organizations and delivered it over the next several years in the company's locations across Europe, North America, and Asia. In 2019, just before the global pandemic, we began an initiative to fully redesign and optimize the program for virtual learning in order to allow the company's leaders to connect to one another, to the company strategy, and to the learning content in the program. This enabled greater alignment, networking, and the sharing of best practices in the organization across geographic boundaries.
The redesign created an immersive experience that blended a variety of learning methodologies with multiple innovative technologies, while maintaining the robust facilitation and networking opportunities that had made this program so successful in the past. What was originally a two-day intensive classroom program was artfully transformed to a four-week dispersed program, allowing participants to pace the asynchronous learning with their day-to-day workload. Learners engaged virtually to explore current execution issues with their colleagues across the globe and were able to immediately implement their learning back on the job between each virtual session. The new delivery of the program featured a tailored team-based simulation, virtual role plays, "virtual water cooler" conversations, dynamic facilitation, and "learn from each other" discussions that tied their program back to the participants' work realities. The redesigned virtual setting allowed the executive participants to balance the synchronous elements with the learner-driven, asynchronous learning at their own pace.
Excellence in Leadership Development
Desired Outcomes
Translate the broader business strategy into clear direction.
Create and articulate a plan aligned with organizational strategy.
Align organizational, team, and individual goals.
Assess and identify the people capabilities required to achieve current and future goals.
Create and demonstrate accountability.
Understand the Importance of decision-making, risk management, and escalation as a leader.
Target Audience
Logistics
4-week virtual learning experience.
115+ Participants.
Learner-driven content & instructor-led workshops.